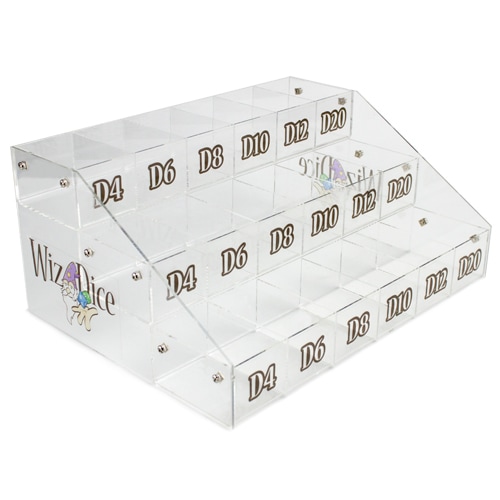 Hover to Zoom
Product Details
Role-playing games and dice are very popular right now. Our acrylic display is the perfect way to showcase the dice you have for sale and attract hard-core gamers to your business. The acrylic display looks great on a front counter, situated on a shelf, or in a window display. It is also a good way to increase foot traffic to your business and let people know that your store is the place to buy dice.

Each display is divided into 18 sections with three different levels, making it ideal for sorting dice by the number of sides. The case measures approximately 15 1/2 inches long and 7 inches tall at the highest level. Translucent Wiz Dice stickers are adhered to each section for easy readability and dice placement.

While there are no dice included with this display, you can purchase a complete set separately, or re-order additional dice with the desired number of sides for restocking purposes.
---