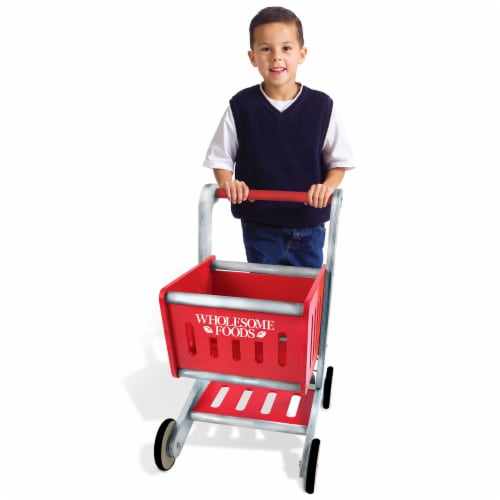 Hover to Zoom
Wholesome Foods Shopping Cart
Product Details
Welcome to Wholesome Foods!
Grab a cart and fill it with all your favorite foods. Make sure to check every aisle, the shelves are stocked with plenty of delicious choices. Place each item into your shopping cart and don't forget to put drinks on the bottom rack!
This wooden shopping cart jumpstarts early mobility and balance, all while little ones learn to shop just like the grownups. Develops fine motor skills and encourages exploration and discovery with every step.
This cart is a vibrant red cart and has silver-painted pieces that would normally be metal on a real cart. It requires of the use of tools but comes with detailed instructions for easy assembly. Made with natural cuts of wood and finished with water-based, safe paints.
Why You'll Love It
Your child will role play having their own grocery store. Help them pick out healthy play foods and teach them how to make balanced meals from their choices. This Wholesome Foods shopping cart is the perfect complement to play food toys from all compatible brands. The cart is made of cuts of natural wood, safer than plastic or metal carts on the market. Check out all other Imagination Generation products as well as Wood Eats! playsets to go with the cart.
---