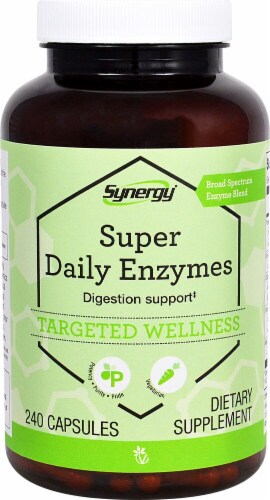 Hover to Zoom
Vitacost Synergy Super Daily Enzymes
Product Details
What is Super Daily Enzymes?
Super Daily Enzymes offers natural, broad-spectrum digestive support with a combination of enzymes to help with the breakdown of different foods.* Included are:
Protease: For protein digestion.*
Lipase: To help break down fats, improving their utilization.*
Amylase: For the breakdown of carbohydrates such as glycogen and starches.*
Cellulase: To help digest of cellulose, a fiber found in fruits and vegetables.*
Lactase: Supports breakdown of lactose, the milk sugar.*
Super Daily Enyzmes features vegetarian, or plant-based (not animal-sourced), enzymes, well tolerated by most people. It should be taken just before or during meals. Capsules may also be opened and contents mixed into cold or warm foods or beverages. Avoid mixing into hot food or drinks for best enzyme activity.
What are the key benefits of Synergy Super Daily Enzymes?
Supplies different natural enzymes to support digestion of various foods.*
Supplies enzyme "back up" for those whose diets may be lacking natural digestive enzymes.*
Supplies enzymes for those that may have age-related changes in digestive output.*
Synergy Super Daily Enzymes is a targeted wellness solution - just for you.
Features plant-sourced enzymes (Note: Although the enzymes included in this formula are vegetarian, this is not a vegetarian supplement. The capsules contain gelatin.)
Can be taken in capsule form or opened so contents can be sprinkled on food.
Contains 240 servings per bottle.

Potency • Purity • Pride

*These statements have not been evaluated by the Food and Drug Administration. This product is not intended to diagnose, treat, cure, or prevent any disease.
---