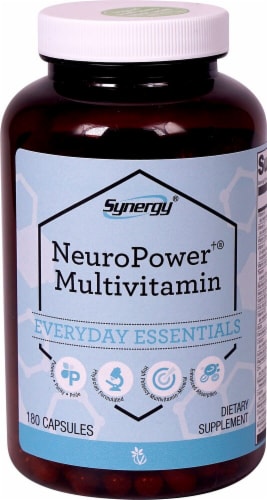 Hover to Zoom
Vitacost Synergy NeuroPower Multivitamin Capsules
Product Details
What is NeuroPower® Multivitamin?
NeuroPower® Multivitamin is a high-potency multi formula that includes 22 essential vitamins and minerals and 13 notable antioxidants such as green tea and coenzyme Q10 (CoQ10), including several nutrients that contribute to good health.*
Unlike other multi formulas, which include only the minimum daily value (DV) for many important nutrients, Synergy NeuroPower® Multivitamincontains 100% or more of the DV for 19 different vitamins and minerals. It also contains many botanical extracts and other nutrients not included in common multivitamins, such as ginkgo biloba, turmeric, phosphatidylersine, acetyl L-carnitine and alpha lipoic acid.
What are the key benefits of Synergy NeuroPower®* Multivitamin?
Contains biotin and vitamins B1, B6 and B12, which support healthy nerve function*
Provides vitamin E to support healthy nerves*
Contains CoQ10, which has been shown in clinical studies to promote cardiovascular and neurological health*
Provides vitamin D for healthy neuromuscular function*
Why is Synergy NeuroPower®Multivitamin your everyday essential?
An excellent source of vitamins, minerals and antioxidants in one convenient formula
Provides amounts greater than the DV for 19 different vitamins and minerals
Contains high quality ingredients not used by most multivitamin manufacturers
Contains antioxidant nutrients not present in most multi formulas
*These statements have not been evaluated by the Food and Drug Administration. This product is not intended to diagnose, treat, cure, or prevent any disease.
---