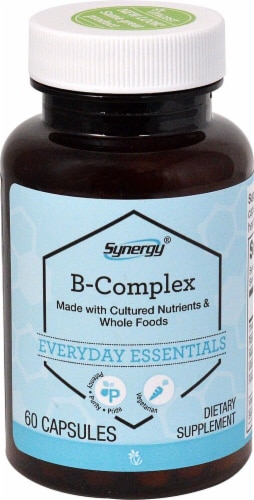 Hover to Zoom
Vitacost Synergy B-Complex with Cultured Nutrients & Whole Foods
Product Details
SynergyB-Complex supplement is made from real, identifiable, food ingredients— including the freshest fruits and vegetables, full-spectrum herbs and revitalizing superfoods—to supply nutrients in their most authentic and recognizable forms for easy absorption by the body.
Non-GMO and organic ingredients
100% vegetarian
Free of artificial colors, flavors and preservatives
No chemical fillers, binders or stearates
Labels printed on recycled paper with water-based ink
Experience the difference with Vitacost B-Complex
This enhanced B-complex supplement delivers a full range of eight essential B vitamins, plus several unique multi-nutrient blends. Nutrients are uniquely grown using a proprietary fermentation process and cultured in live probiotics to create a whole food complex your body can easily recognize and absorb. Included are:
Probiotic & Enzyme Blend with alpha-and beta-glucanase, protease and more
Organic Fruit Blend with organic strawberry, cherry, blackberry, blueberry and raspberry
Organic Vegetable Blend with organic beet juice, carrot, broccoli, cucumber, tomato, kale, spinach, cabbage, cauliflower, celery, parsley, asparagus, Brussels sprouts, green bell pepper, garlic, ginger and onion
A more natural, conscious approach to nutrition — from the inside out
SynergyB Complex is a 100% vegetarian supplement made from carefully selected organic and non-GMO ingredients.
*These statements have not been evaluated by the Food and Drug Administration. This product is not intended to diagnose, treat, cure, or prevent any disease.
---