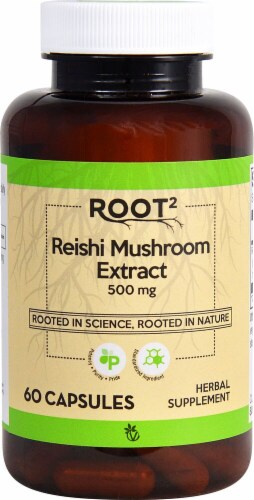 Hover to Zoom
Vitacost ROOT2 Reishi Mushroom Extract - Standardized
500 mg - 60 Capsules
UPC: 0083500300124
Product Details
What is Vitacost Reishi Mushroom Extract?
Reishi Mushroom Extract is an all-natural, standardized extract of reishi mushrooms. Bioactive compounds in reishi mushrooms include polysaccharides and the immunomodulatory protein, protein Ling Zhi-8 (LZ-8), both of which are believed to have important functions in the immune system.*
Mushrooms are classified as fungi (plants without roots, leaves, seeds or flowers that don''t require sunlight to grow) rather than vegetables, and have been used for both culinary and health purposes for centuries. They are large, black-brown in color, rich in flavor and commonly eaten in stir-fries and soups, and as a meat substitute.
The Reishi mushroom, Ganoderma lucidum, was revered in Chinese culture thousands of years ago. Known as the "elixir of life," reishi mushrooms were believed to enhance memory and bring happiness, good health, longevity and a good future. It wasn't until the 1970s that resihi mushrooms began to be commercially cultivated in Japan and scientifically tested for their health-promoting properties.*
What are the key benefits of ROOT2 Reishi Mushroom Extract - Standardized?
Supports healthy function of human immune cells.*
Promotes healthy function of T-cells.*
Supports the immune system's maintenance of healthy DNA replication.*
Has antioxidant activity.*
Supports the healthy function of the male lower urinary tract.*
ROOT2 Reishi Mushroom Extract - Standardized is Rooted in Science, Rooted in Nature.
Supplies 500 mg of reishi mushroom extract per single-capsule serving.
Standardized to 10% polysaccharides, ensuring consistent levels of active ingredients in every dose.
Contains 60 servings per bottle.
Exceptional quality at an extraordinary value.
Potency • Purity • Pride
All Vitacost® supplements are formulated to
---