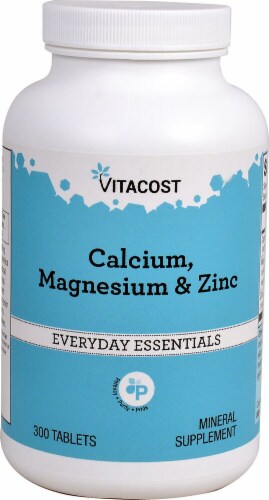 Hover to Zoom
Vitacost Everyday Essentials Calcium Magnesium & Zinc Tablets
Product Details
What are the key benefits of Vitacost Calcium, Magnesium & Zinc?
Calcium is an essential ingredient of bone that must constantly be replenished.*
Magnesium contributes to calcium absorption.*
Magnesium helps build strong bones by converting vitamin D to its active form and setting in motion key enzymes that stimulate bone cells.*
Magnesium helps maintain normal muscle and nerve function.*
Zinc is a trace mineral essential for proper growth, development and reproduction, as well as numerous body processes, from eye health to immune function to regulation ofappetite, taste and smell.*
Zinc is an antioxidant that may help protect healthy cells from the potentially damaging effects of free radicals.*
Zinc deficiency in the elderly can accompany age-related immune decline*
Whyis Vitacost Calcium, Magnesium & Zinc your everyday essential?
Provides calcium, magnesium and zinc into one convenient formula
Supplies 100% of the Daily Value for all three minerals
Contains 100 servings per bottle
Great value compared to similar products on the market!
*These statements have not been evaluated by the Food and Drug Administration. This product is not intended to diagnose, treat, cure, or prevent any disease.
---