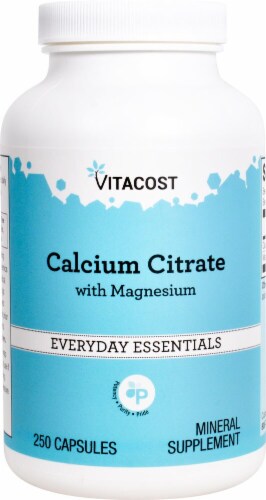 Hover to Zoom
Vitacost Calcium Citrate with Magnesium
250 Capsules
UPC: 0084419701542
Product Details
What is Calcium Citrate (with Magnesium)?
Calcium Citrate provides 300 mg of a water-soluble form of calcium that's absorbed well on a full or empty stomach, plus 150 mg of the mineral magnesium per serving.
What are the key benefits of Vitacost® Calciuim Citrate with Magnesium?
Adequate calcium and vitamin D intake throughout life, as part of a well-balanced diet, may reduce the risk of osteoporosis by slowing the rate of bone loss for people with a family history of the disease, post-menopausal women, and elderly men and women.
Calcium is an essential ingredient of bone that must constantly be replenished.*
Magnesium is an essential mineral used in more than 300 biochemical reactions in the body.*
Magnesium is important for healthy bones.*
Magnesium plays a part in calcium absorption.*
Magnesium helps maintain normal muscle and nerve function.*
Why is Vitacost® Calciuim Citrate with Magnesium your everyday essential?
Combines calcium and magnesium into one convenient formula
Features calcium citrate, which is absorbed well on a full or empty stomach
Easily digested
Contains 125 servings per bottle
All Vitacost® supplements are formulated to deliver the level of support you expect and deserve. Whether you're shopping Vitacost® vitamins, minerals, herbs or other key nutrients, their potency is guaranteed – what's on the label is what's in the bottle. Plus, all Vitacost® supplements adhere to the FDA's Current Good Manufacturing Practices (CGMPs), ensuring that they are manufactured to high standards of POTENCY, PURITY, efficacy and safety.
*These statements have not been evaluated by the Food and Drug Administration. This product is not intended to diagnose, treat, cure, or prevent any disease.
---