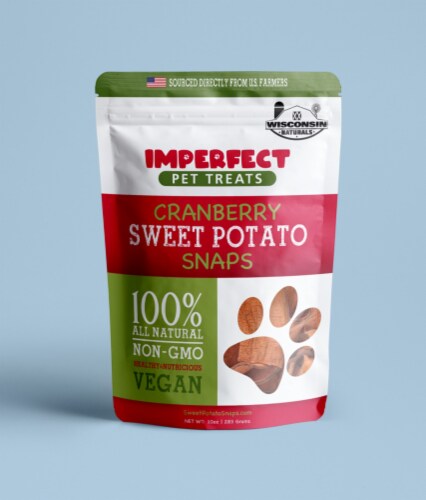 Hover to Zoom
Sweet Potato Snaps Cranberry 100% all natural sweet potato infused with cranberry
Product Details
Sweet Potato Snaps Cranberry 100% all natural sweet potato infused with cranberry
Our sweet potato pet snacks are easy on your pets stomach and sure to be loved by all types and sizes of pets. Dogs, horses, donkeys, rabbits, and many other pets have been enjoying our all natural sweet potato snacks.The amino acids in sweet potatoes help maintain healthy, strong and lean muscles.The amino acids also boost antioxidant activity, which helps to protect against cancer and other diseases.Sweet potatoes help keep pets' organs healthy. Sweet potatoes are a high-fiber vegetable, which makes it fantastic for your pets' digestive system.Grown & Manufactured in Wiscons in 100% All Natural (no additives, no fillers, no preservatives, no artificial ingredients)
The amino acids in sweet potatoes help maintain healthy, strong and lean muscles.
The amino acids also boost antioxidant activity, which helps to protect against cancer and other diseases.
Sweet potatoes help keep pets' organs healthy.
Sweet potatoes are a high-fiber vegetable, which makes it fantastic for your pets' digestive system.
Grown & Manufactured in Wisconsin
100% All Natural (no additives, no fillers, no preservatives, no artificial ingredients)
High in Antioxidants
Gluten Free
Rich in Fiber
Easy on your Pets Digestive System
---