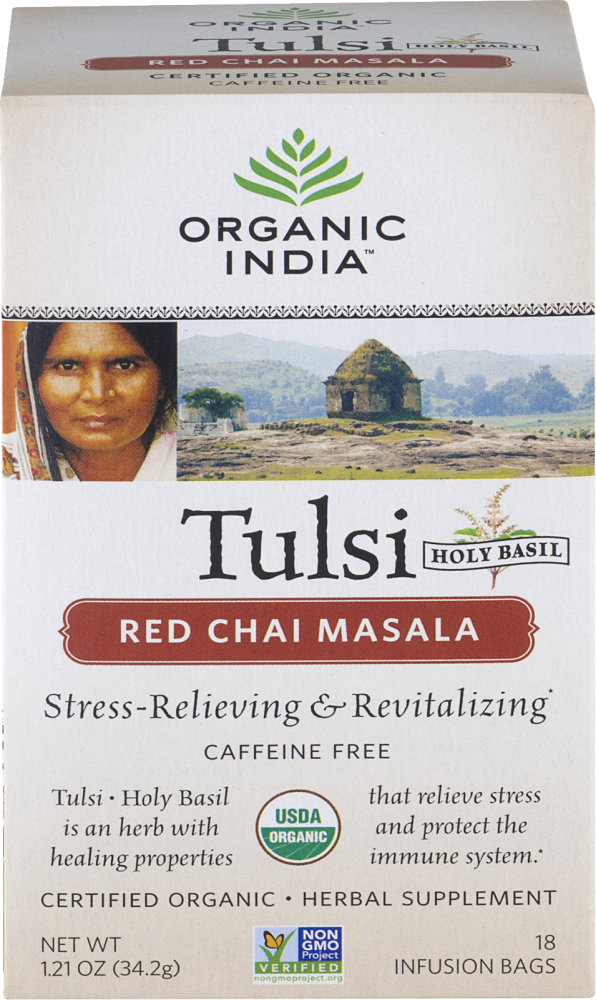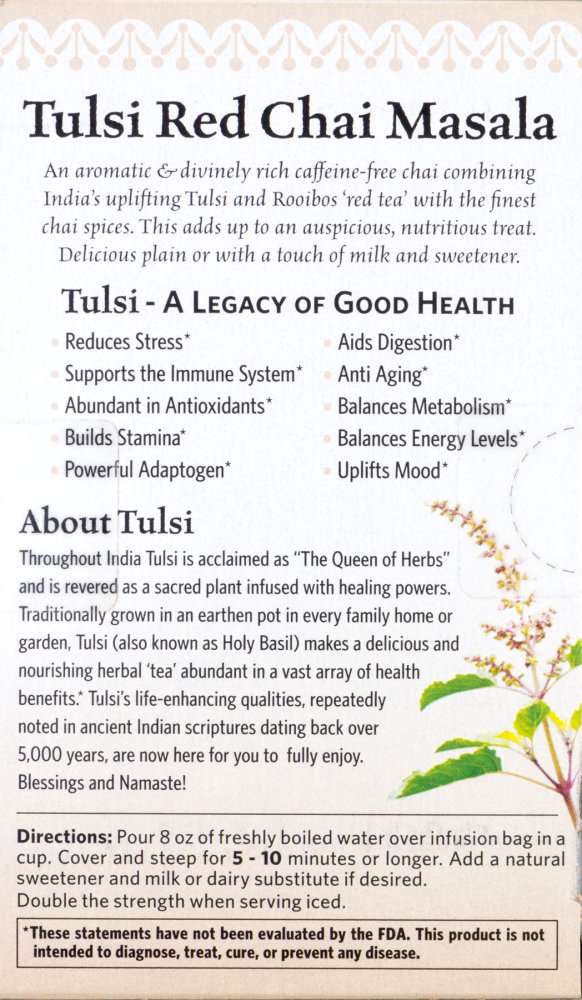 Organic India Red Chai Masala Tulsi Tea
Purchase Options
Located in Aisle 14 in Your Store
If you like chai, you'll love our naturally caffeine-free Red Chai. Instead of classic black tea, we use rooibos, an aromatic tea leaf from South Africa to make red tea, then blend it with stress-relieving Tulsi and classic chai tea spices like cinnamon, ginger, cardamom, roasted chicory, and nutmeg. Rooibo's flavor is strong, and we balance it expertly with our other ingredients to give you something completely unique-and incredibly healthy. A few sips of this rich, delicious tea and you'll fall in love with its distinctive sweet-yet-spicy, full bodied, nutty taste. Drink on its own (delicious!) or go traditional and add milk and sweetener for a rich, creamy taste.
Rooibos is sweeping the West- and it won't be long until you hear orders for "red espresso," as in South Africa. This healthy herb has low tannin levels compared to fully oxidized black tea or unoxidized green tea and is packed with antioxidants, which can cancel out the cell-damaging effects of free radicals. The combination of these benefits with the antioxidants in Tulsi and the organic chai spices gives your body a dose of adaptogenic power and a digestive boost.
But the "secret" ingredient in this heart warming tea is Tulsi. Tulsi (also known as Holy Basil) is a powerful healing herb that has been revered for over 5000 years in India for its ability to relieve stress and boost the body's natural immune system. Organic India is the first company to bring Tulsi to the West as an organic tea. We work with thousands of farmers in India to cultivate the herb using environmentally sustainable methods, restoring vitality to earth and dignity to its people.
Aids Digestion
Relieves Stress
Powerful Adaptogen
Naturally Caffeine Free!
Abundant in Antioxidants
---