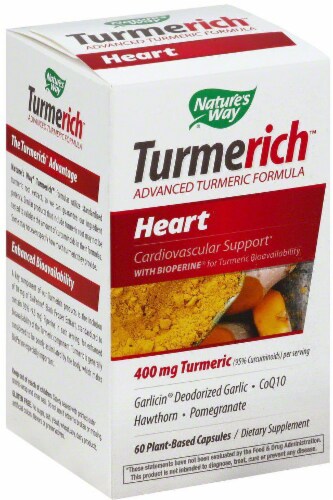 Hover to Zoom
Nature's Way Turmerich Heart Capsules 400 mg
Product Details
Nature's Way® Turmerich™ formulas utilize standardized turmeric root extract, so we can guarantee our ingredient potency. Similar products that include turmeric root may not be tested to validate the amount of curcuminoids in their formulas. Some may not even specify how much turmeric they provide. A key component of our Turmerich products is the inclusion of 10 mg of BioPerine® Black Pepper Extract, standardized to contain 95% (9.5 mg) Piperine in each serving, for enhanced unavailability of the Turmeric component. Turmeric is generally considered to be poorly assimilated by the body, which makes BioPerine especially important.
Turmerich Heat is a triple-action formula that combines high-quality standardized Turmeric with other top herbal and specialty ingredients to support cardiovascular health.
Turmeric Root Extract
400 Mg Turmeric (95% Curcminoids) Per Serving
Specialty Herbal Cardio Support*
Garcilin® Deodorized Garlic
With Bioperine® For Turmeric Bioavailability
Coenzyme Q10 (Ubiquinone)
Pomegranate Extract 85% Polyphenols
Hawthorn Extract 1.8% Flavonoids
Gluten Free
Vegetarian
*These statements have not been evaluated by the Food and Drug Administration. This product is not intended to diagnose, treat, cure, or prevent any disease.
---