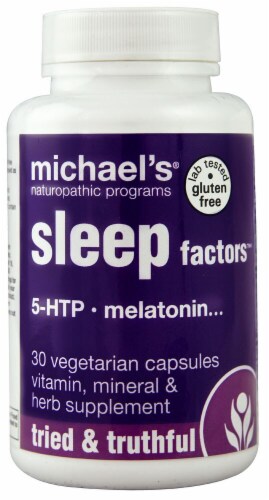 Hover to Zoom
Michael's Naturopathic Programs Sleep Factors Vegetarian Capsules
Product Details
Sleep is a key influence in maintaining emotional balance and generally promoting good health. Without sleep, true harmony within the body is not possible. Sleep, or lack thereof, may be important, vastly under-appreciated determinant of health.
Many nutrients are necessary even during sleep. Some vitamins are important for stimulating amino acids, like tryptophan, into serotonin, a sleep neurotransmitter. During sleep, the body''s autonomic systems are still controlling basic functions of glands, organs, muscles, metabolism, and respiration. To prepare for eight hours at night when we do not take in any new nourishment a store of nutrients must be available.
The following nutrients are essential for the overall health of the body and used during sleep:
Calcium is great for relaxation and is more readily absorbed by the body at night when the body''s stores are also not being used. There is a well-established calcium-magnesium interaction that plays an important role in the body.
Magnesium is essential for calcium transport and utilization. Calcium and magnesium both play a role in nervous system function.
Niacinamide is a form of the B-complex vitamin niacin and is required for aerobic metabolism and the conversion of the amino acid phenylalanine to tryptophan. It is also thought to play a role in helping those who cannot return to sleep after awakening during the night.
In addition:
5-HTP can enhance the production of serotonin in the body.
Melatonin is known for its ability to facilitate sleep.
Passion flower, Hops and Skullcap are herbal nervines known for their relaxing properties.
---