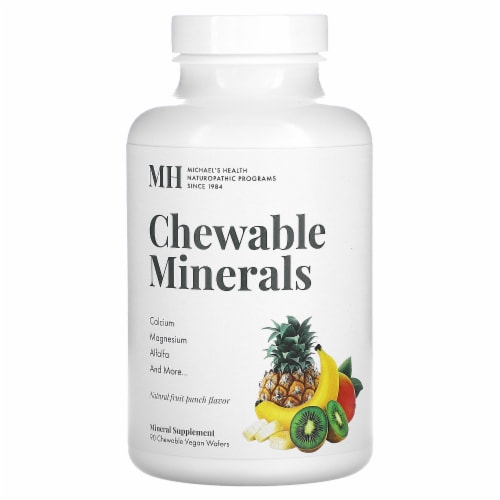 Hover to Zoom
Michael's Naturopathic Program Chewable Minerals Natural Tropical Fruit Flavor Vegan Wafers
Product Details
Calcium: is involved in the blood coagulation process, nerve and muscle stimulation, parathyroid hormone function, and in the metabolism of vitamin D. Calcium needs magnesium, phosphorus, and vitamins A, C, D, and possibly E to function properly.
Calcium's major function is to work with phosphorus to build and maintain strong bones and teeth, and is essential for maintaining proper pH of the blood.
Chromium: is trace-mineral essential for good health. It maintains normal levels of blood sugar (glucose), which acts as fuel for the body. Chromium has been shown to help dieters gain control over their appetites, especially cravings for carbohydrates.
Iodine: This is the primary micronutrient that nourishes the thyroid gland, and is one of the building blocks of thyroid hormone. Many bodily functions depend on this gland and its hormones. Iodine regulates the body's production of energy, promotes growth and development, and stimulates the rate of metabolism. The metabolism is a strong factor in the body's ability to burn fat.
Magnesium: activates enzymes necessary for the metabolism of carbohydrates and amino acids, and helps promote absorption and metabolism of other minerals such as calcium, phosphorus, sodium, and potassium. Magnesium plays an important role in neuromuscular contractions and helps regulate the body's acid-alkaline balance.
Manganese: is essential for the formation of thyroxin is a hormone produced by the thyroid gland. Manganese also helps maintain sex hormone production, and nourishes the nerves and the brain.
These statements have not been evaluated by the Food and Drug Administration. This product is not intended to diagnose, treat, cure, or prevent any disease.
---