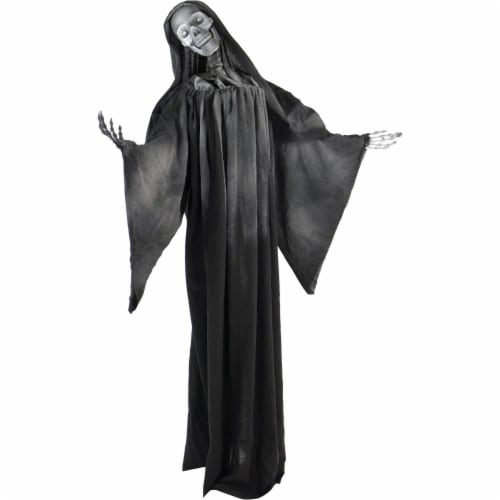 Hover to Zoom
Haunted Hill Farm Animatronic Reaper Halloween Decoration
Product Details
Straight from the depths of the underworld, the demon is still covered in ash from his journey. He can't help but laugh with excitement, his mouth moving as he chuckles in the night. Soul Stealer's eyes flash white to cast light on his victims. His adjustable arms can be moved to cover his wicked toothy smile or extended to beckon visitors near. Whether suspended from his hanging loop or propped on his stand, his wicked presence will be felt by all. His long black cloak blends him into the night as he patiently waits for a snack to stumble his way.
Wicked toothy grin, bony skeleton fingers, and lifelike skull
68 in. animatronic reaper for indoor and covered outdoor display
Sinister voice and fiendish laugh greet visitors with three frightening phrases
Soul Stealer is touch activated- mouth moves, eyes glow white, laughs wickedly, thunder noises
Phrase 1: "Welcome. Come in, if you dare."
Phrase 2: "Enjoy yourselves. It may be your last chance.."
Phrase 3: "You should have not come here. You'll see..."
---