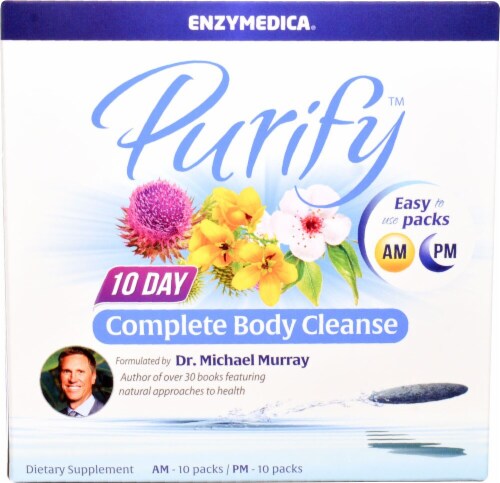 Hover to Zoom
Enzymedica Purify Complete Body Cleanse
20 Packets
UPC: 0067048010066
Product Details
Purify Complete Body Cleanse offers an advanced, "whole body" approach to natural cleansing and detoxification.
Easy to use morning and evening packets eliminate unnecessary complexity and contain all the capsules needed for an ideal 10-day cleanse.
This comprehensive program is designed to accomplish specific tasks in the detoxification and elimination of waste and toxins.
The morning cleanse contains powerful formulas for detoxification, while the evening cleanse offers gentle and effective support for elimination and regularity.
Once toxins are released, it is crucial that they be eliminated from the body quickly, and Purify supports this over a 10-day period, preventing those toxins from being redeposited elsewhere in the body, which can be a challenge common to other programs.
6 Different Formulas
Support a complete body cleanse
Purify™ Enzyme Blend supports the breakdown of excess food in the digestive tract.
Purify Probiotic Blend offers foundational support for the good bacteria in the colon, which produce a variety of substances critical for a natural detoxification process.
Organic Detox Veggie Blend is an all organic blend of vegetable concentrates that contain phytochemicals which naturally support the body''s antioxidant defense mechanisms.
Mixed Ascorbates with MSM provide Vitamin C, which promotes proper pH and works as an important antioxidant. MSM provides physiological sulfur, a key compound in neutralizing many toxins.
Daily Regularity uses natural ingredients to promote efficient movement of matter through the colon.
*These statements have not been evaluated by the Food and Drug Administration. This product is not intended to diagnose, treat, cure, or prevent any disease.
---