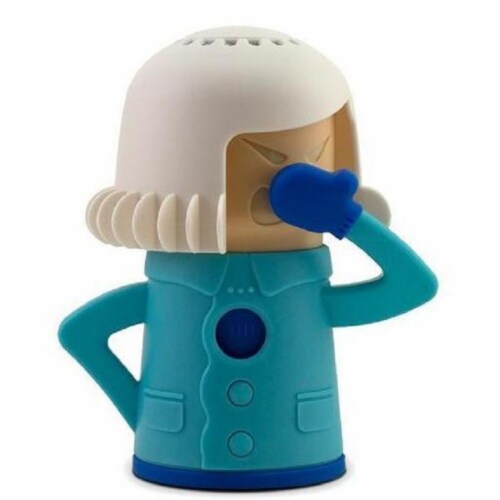 Hover to Zoom
Department Store 1pc Oven Steam Cleaner Microwave Kitchen Refrigerator Cleaning (Sky Blue)
Product Details
Description
What You Get: 1 x Angry Mom Microwave Oven CleanerThe steam comes out of mama's head and softens microwave dirt and stains for easier cleaning.Cute and clever design makes Angry Mama a perfect gift for any occasion and be a welcome addition in the office kitchen. Made with Heat- Resistant materials ,Angry Mama is dishwasher safe for easy cleaning.
Use steam to clean the crud from your microwave, just add vinegar and water, then microwave for 7 minutes. No Need to Use Dangerous Chemical & Stain Removers.
Easy to use, first remove angry mama's hair and head from body, then add vinegar and water to fill lines on the body, add a squeeze of lemon Juice (or essence) to liquid for a pleasant odor. Angry Mama cuts microwave cleaning time in less than half.
Watch out dirty microwaves - here comes Angry Mama Microwave Oven Steam Cleaner from As Seen on TV!
The Angry Mama is the ONLY solution to steam away microwave messes and odor.
It is Extremely Fast & Easy to use, you can clean your microwave in just minutes!
With just 4 Simple Steps, you can magically cut microwave cleaning time in Less Than Half:
Step 1: Fill Angry Mama with water and vinegar. Add a drop of lemon juice or extract for pleasant smell. Noneed to use harmful chemicals or stain removers.
Step 2: Run microwave at high power for 7 minutes. Steam will blast out from Angry Mama's head to soften grease and grimefor easy wipe down.
Step 3: Remove Angry Mama by the elbows.The specially designed elbows will remain cool even after being microwaved.
Step 4: Simply wipe down the microwave oven with a sponge, napkin or rag and voila a spotless microwave!
Color: Sky Blue
---