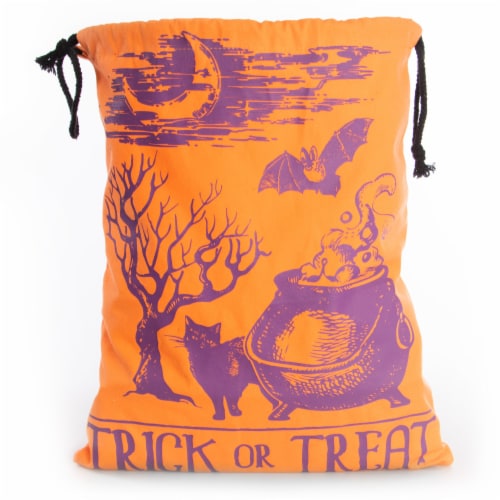 Hover to Zoom
Canvas Trick or Treat Bag
Product Details
No Tricks, More Treats
Remember those cute little Jack-O'-Lantern buckets you'd carry around to gather candy on Halloween night? Yeah, forget about 'em. You're not five anymore! You're a big kid, so let's make your candy adventure more fit for a big kid that needs more candy! The Trick or Treat Canvas Bag from Hauntlook is the next step up from that outdated pumpkin pail.
Do you like this product but think it's too beautiful to put junk and candy in? You can hang it up as a poster, cut out the images to make a DIY banner, and more. Halloween is all about creativity, so let your mind wander.
Why You'll Love It
Measuring at 17 inches deep and 14 inches wide, this bag can carry at least 4 average-sized Halloween buckets worth of candy!
This bag is reusable, no need to replace as your kiddo grows up. It's suitable for all ages! Make a mess? That's okay! It's washable! These bags are super strong, but accidents happen. If you rip your bag, sew it back together easily! The stitching will only add to the Halloween appeal! Use it again and again!
This traditionally themed item would make a great addition to the storage container full of Halloween heirlooms.
---