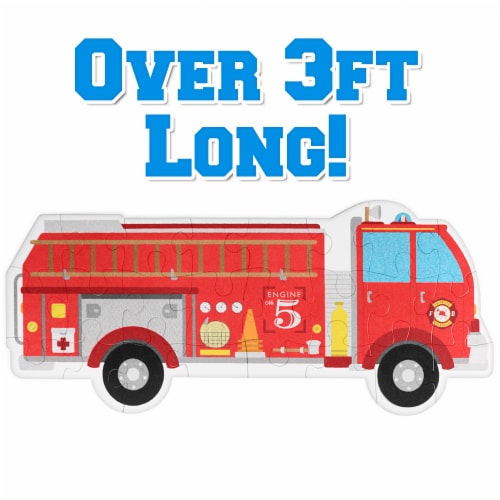 Hover to Zoom
24 Piece Jumbo Fire Engine Floor Puzzle
Product Details
This fire engine floor puzzle is sure to keep little hands busy. Consisting of 24 jumbo pieces, when fully assembled this fire engine reaches over 3 feet long! Puzzles are great tools for developing your child's fine motor skills, as well as their cognition and ability to solve problems. Even better, this puzzle invites collaboration! Lend your toddler a hand in placing the pieces, or pack up the puzzle into the sturdy, reusable box and take it on a playdate. This puzzle contains hours of jumbo-sized fun in a tiny, portable package.
Delight Is in the Details
Rendered with a unique, crayon-and-construction-paper texture, this puzzle's art may look simple, but it's full of small details! Have your child identify and call out the fire hose, pressure gauges, and orange traffic cones; the fire axe, extinguisher and wooden ladder; the siren, flashing lights, first aid kit, fire department emblem, and more!
Sized for Small Hands
Thick, durable cardboard pieces up to 7" wide are easily manipulated by toddlers. And the simple, chunky connectors ensure an easy, secure fit when putting the puzzle together. The heavy-duty, toddler-tested construction stands up to teething, gentle bending and rough handling, even little footsteps.
---